Do you need a CT Scanner for your low volume clinic, urgent care, veterinary office, practice or hospital? Since you don't have to be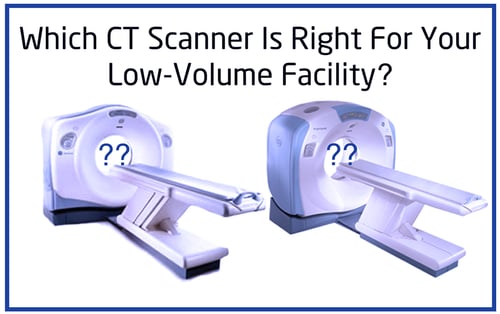 concerned with high volume demands or patient loads that are bursting at the seams, the best CT Scanner for you is probably different than that of a high volume facility. We asked the experts at Atlantis Worldwide which CT Scanner would be ideal for low-volume facilities and this is what they said.
GE Lightspeed 16 or Brightspeed 16
Do you do 10 or less CT scans per day? A refurbished GE Lightspeed 16 or Brightspeed 16 offers you the best combination of performance and cost.
Why refurbished? Because you'll still get the output and performance you need, the service warranties you want and a price that is kinder to your bottom line than a new system. Let's take a closer look.
First of all, a 16-slice CT Scanner is the industry standard. Best of all is the fact that prices on this technology has come down considerably. You can get 16-slice technology for not a whole lot more than 4-slice technology. That means you get a newer, faster system with a lot more flexibility.
Secondly, by choosing a system with smaller X-ray tubes, you'll save money. For example, the Lightspeed has a version with an 8.0 MHU tube, but the Brightspeed or Lightspeed with a 6.3 MHU MX 200 is a great choice. You might even be able to function with a Brightspeed with a 3.5 MHU tube (Select).
Here's another great thing about GE: it has the lowest priced service and parts options because GE-trained engineers are common and replacement parts are easy to access. This combination can result in significant savings.
It's true, you could choose a 4-slice system, but they are becoming more scares. As these systems age, it could be harder to find replacement parts.
A Few More Options…
Prefer to buy a newer CT scanner for your practice? You might consider a GE Optima 520 or 540. In addition, 16-slice scanners are still being manufactured and installed by every OEM. That means the technology and diagnostic ability is still relevant.
Talk To An Expert
Before you make a decision, talk to an industry expert that understands the refurbished/used market for CT Scanners. The experts at Atlantis Worldwide will listen to your needs, honor your budget and provide you with options that will serve your practice perfectly. Contact Us Today!