If you have a busy CT department or facility, the last thing you want to deal with is downtime. After all, most CT departments have very full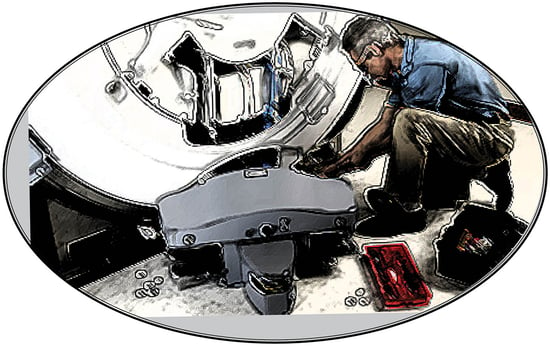 schedules with waiting periods for appointments in excess of 30 days. When you're that busy, it's hard to stop the flow of patient imaging for routine maintenance, which can take four hours every three months. And scanners that are heavily used require four hour maintenance even more often. But what happens if you DON'T perform regular maintenance?
Actually, it's disastrous, because a mechanical failure due to the lack of routine maintenance can shut down your operation for significantly longer than four hours. Which means, as hard as it can be on your department to be shut down for routine maintenance, it's actually better than the alternative.
CT specialists plan their maintenance up to a year in advance. It's even smarter to schedule your planned maintenance at the same time on the same day of the month. This makes it easier for the clinical staff to remember the day and time of routine maintenance. Plus, since it's a regular occurrence, the impact feels a little less.
So what happens during that four hours of routine maintenance? It involves both computer system and mechanical system reviews. On the mechanical side of the process, you have to clean, oil and replace air filters. You also need to make sure the voltages are correct, the patient transport answers commands and the gantry is tilted correctly.
On the software side of the process, software-controlled settings may have to be adjusted. If so, backup copies of the altered software has to be created in case of computer failure. In addition the imaging needs to have quality control performed, making sure the images come out right. The archiving system on the CT's computer must also be checked. In addition, archived images may need to be transferred to backup tapes.
The engineer also needs to look for worn parts, metal shavings or loose hardware. These can signify major issues with the system. If there's an odd smell, that can mean there's a problem, too. The key is to find small things before they become big issues—and that takes making sure routine maintenance takes place on schedule.
Service engineers also need to check dosage software and hardware faults that can effect dosage. This is usually done on a yearly basis.
If you notice any issues in between routine maintenance, be sure to reach out to your service provider. As a rule, 35-40% off all service calls can be resolved over the phone. And the sooner a problem is addressed, the easier it is to repair.
Talk To An Expert
Are you looking for new medical imaging equipment for your clinic, hospital, urgent care center or service/maintenance contract? Oftentimes a used or refurbished system can provide the performance you want at a price that's much more affordable—and you still get impressive warranties. Talk to the experts at Atlantis Worldwide and see what might be right for your needs.
Follow Atlantis Worldwide on Twitter: @AtlantisLLC
Other blogs you may have missed: