Managing medical imaging equipment has always been challenging. You have to deal with staff shortages, the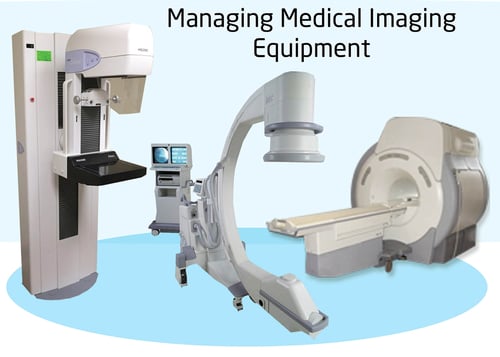 bottom line, patient throughput and reducing exposure risks for staff and patients. Enter COVID-19 and all the efforts to reduce the risk of infection and it gets harder and harder to improve productivity for your medical imaging devices!
Recently, GE Healthcare hosted a "Future of Healthcare" webinar with healthcare leaders. Topics included post-pandemic regrowth, intelligence-based technologies and AI.
Everett Cunningham, the GE Healthcare CEO in U.S. and Canada, said, "Our customers are asking, how can you make our machines more productive—how can we interface with patients using innovative technology?" He said he knew the technology had to be simple. After all, the person at the other end of technology is the patient.
So how do you strike the ideal balance between efficacy, efficiency and experience? It requires tools, solutions and strategies to keep machines in service and a great deal of attention on the backend. During the pandemic, clinical engineers also have to create and adhere to public health and infection control protocols. The good news is, there are lots of resources to help health systems address this growing list of demands, including diagnostics and repair, virtual training and real-time asset tracking.
Remote Medical Equipment Monitoring and Repair
Remote technologies and services have created new ways that people can service equipment. Proactive monitoring platforms augmented by predictive technology like OnWatch can check a system's health between scheduled maintenance. That means remote engineers can examine the systems without being physically present or having to take the equipment out of service. Before OCIVD-19, remote diagnostics had already enabled hospitals to reduced unplanned downtime by 35 percent. In addition, repair times were 30 percent faster!
During COVID-19, there have been increased demands and utilization in CT, MRI, ventilators and ultrasound fleets. As this equipment works overtime, the need for routine maintenance and replenishment or replacement parts increases. If the equipment has to be offline for maintenance, it reduces patient access to the equipment. Quite a conundrum. However, specific technologies like GE Healthcare's TubeWatch can help keep health system operations on track by predicting imminent tube failures days in advance. This enables maintenance engineers to order the new tube in advance of need. In addition, patients can be rescheduled preemptively to minimize disruptions in throughput.
Virtual Training for Engineers and Clinicians
Interest in Telemedicine has grown exponentially since the emergence of COVID-19. Adventist Health Chief Business Officer John Beaman said, "Some of what we've seen here in the short-term is the glimpse of what is with us for the long-term in health care. With COVID-19, we've seen a glimpse of the future, where hospitals will treat the sickest of the sick, with others cared for in the home environment."
When demand for ventilators went up drastically during COVID-19, and hospitals were receiving shipments of new ones, it was difficult for operators to find the time to be trained and get up to speed with the new technologies. With distance learning, hospitals could take advantage of on-demand technical training resources to educate their in-house teams on installation, preventative maintenance and service. The ability to ask questions of manufacturers in real time enabled in-house teams to learn and operate equipment with confidence.
Track Equipment With Real-Time Location Systems
Hospitals can utilize asset tracking with real-time location systems technology, so equipment can be easily found. This prevents medical teams from hoarding equipment. After all, if you know where the equipment is, it's easier to provide timely cleaning and repairs and return equipment to service.
Use These Tools To Navigate COVID-19
By utilizing these three strategies for efficiency, it can be easier to keep your equipment up and running even in the midst of demanding situations like the pandemic.
If you are in the market for medical imaging equipment, be sure to talk to an expert about refurbished and used options. You'll get the performance you want, the maintenance and service warranties you need and at a price that's kinder to your budget. Talk to an expert at Atlantis Worldwide.
For more information, contact Atlantis Worldwide today!