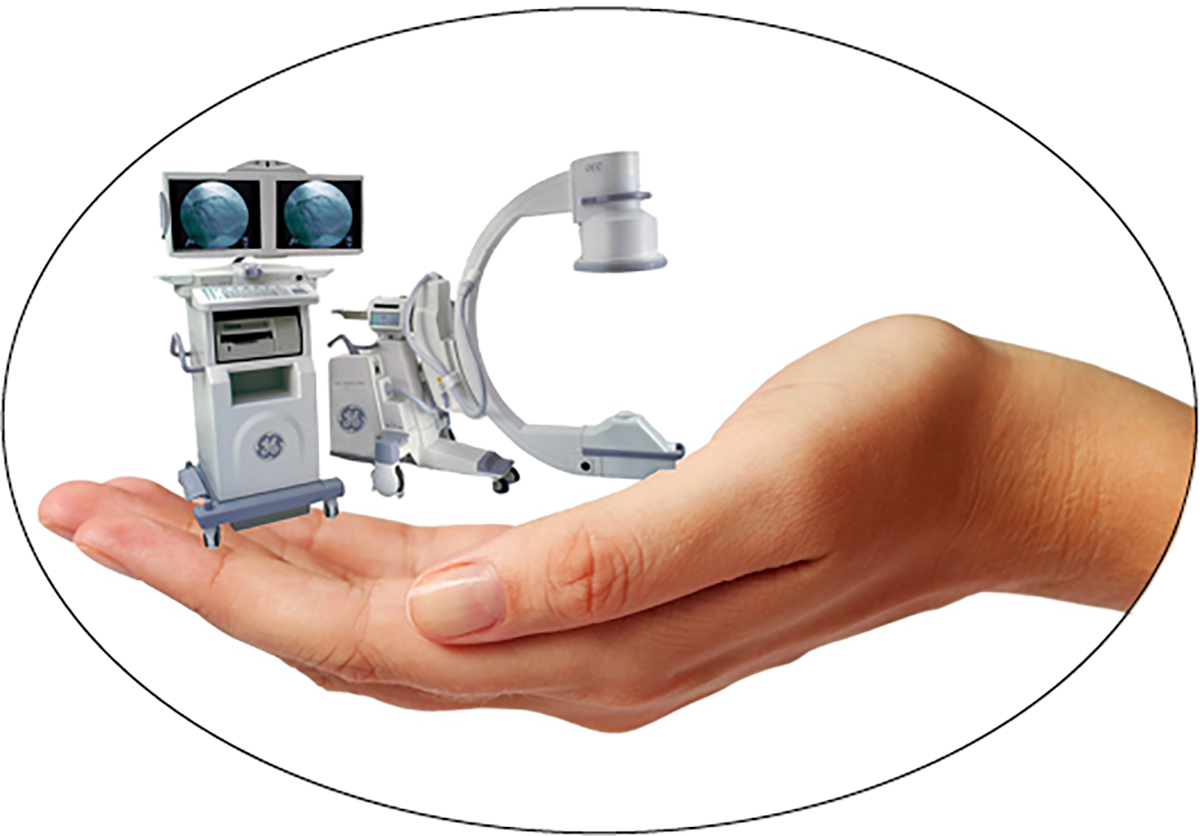 C-Arm imaging systems are one of the essential tools of everyday life for a variety of healthcare providers. Specialists in orthopedics, surgery, traumatology, vascular surgery and cardiology use a mobile C-Arm for imaging. So, what exactly is a mobile C-Arm?
Simply put, a mobile C-Arm is a medical imaging system that uses X-ray technology. It gets its name from the C-shaped arm that is used to connect the X-ray source and X-ray detector to each other. First introduced in 1955, it is a day-to-day workhorse in medical imaging.
C-Arms provide high resolution X-rays in real time. This allows the physician or surgeon to monitor progress during an operation and enables them to immediately make corrections that are needed during the procedure. This makes treatment results more successful and allows patients to recover more quickly. In addition, hospitals and imaging clinics benefit from costs savings from fewer follow-up procedures and minimized installations of medical imaging devices.
How A Mobile C-Arm Works
There's a generator and an image intensifier or flat panel detector in each C-Arm. The element that is C-shaped allows movement horizontally, vertically and around the swivel axes. This means X-ray images can be produced from almost any angle.
The X-rays generated by the generator penetrate the patient's body. The X-rays are converted to a visible image displayed on the C-Arm monitor by the image intensifier. A physician or surgeon can identify and check anatomical details on the image like bones, blood vessels, kidney stones and the position of implants and instruments at any time.
Analog C-Arm
If the image intensifiers are analog, the X-ray strikes a fluorescent surface after being attenuated to different degrees through the patient's body. The surfaces glow more or less brightly, depending on the strength of the radiation. A vacuum tube is located behind the surface, at the end of which an analog camera captures the glow and then displays it on the monitor.
Digital C-Arm Technology
The digital development of the image intensifier technology is modern flat panel technology. The intensity of the incoming X-rays is converted into a digital value. You get distortion-free images because it dispenses electron optics which vastly improves image quality. The first C-Arm with flat panel detector was introduced by Ziehm Imaging in 2006.
Talk to an Expert
Are you looking for a C-Arm for your clinic, hospital, urgent care or medical imaging facility? Oftentimes a used or refurbished C-Arm can deliver the performance you want at a much lower price point—and with impressive warranties. Atlantis Worldwide has been providing used and certified refurbished medical imaging equipment to clients for 28 years. We'd love to help you.
Some blogs you may have missed: