If you're in the market for a CT Scanner, you don't have to buy a new one in order to get the performance you want and warranties you need. A certified refurbished CT Scanner can be your best option. But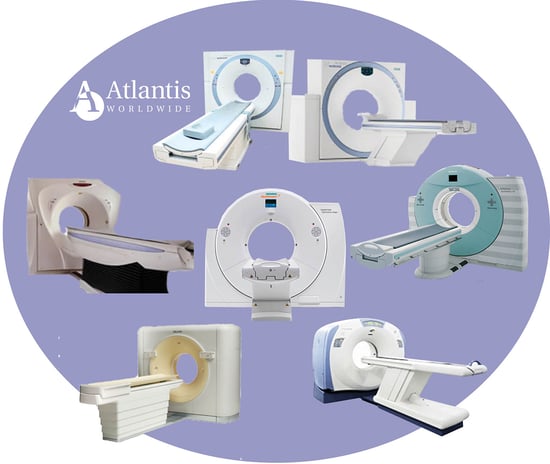 how do you know which one is right for you? Here are several important things to consider as you look for a refurbished CT Scanner.
Slice Count: This is one of the most important considerations when choosing a CT Scanner. You want to be sure to get a slice count that is just right for your clinic, practice, urgent care of hospital. Get too much, and it's a waste of money. Too few and you might not be able to handle the volume or types of CT Scans your practice needs.
4-Slice: This is ideal for a low volume imaging center, urology practice, veterinarian clinic of imaging centers that only use the CT Scanner a few times a week.
16-Slice: If you have a higher patient flow and need reduced scanning times, the 16-Slice CT is a great choice. It also works great for urgent care center, hospitals, emergency rooms and high-volume imaging centers.
64-Slice: If time is of the essence, this is the right CT Scanner for you. It's perfect for cardiac, trauma or high-volume critical care environments.
128-Slice, 256-Slice and 320-Slice: These scan the whole body in second, providing incredibly sharp 3D images of an organ. You'll find these in cardiac and research institutions.
Effective Dose Optimization: This can be as important as slice count. With the demand for lower radiation exposure, many manufacturers are putting an emphasis on improved dose modulation techniques. These include adding additional beam filters, developing reconstruction algorithms to accommodate lower X-ray current and improving detector dose efficiency.
Iterative Reconstruction: This data reconstruction protocol dramatically reduces noise and dose. It's usually found as a feature for premium systems, but can sometimes be an add-on. It's not available on XR-29-compliant CT Scanners, however.
There are other technical considerations that should be factored in to your decision, including Gantry rotation time, X-ray tube performance and lifespan, spatial and contrast resolutions, detector array length, sustainability and maintenance needs and the choice between air-cooled or water-cooled technology.
Specific Manufacturers
Toshiba is all about power and quality. For example, the Toshiba Aquilion 16 is one of the most popular systems. With a robust 16-Slice scanner, it can complete a rotation in .4 seconds and reconstruct high-quality images at just 12 frames per second. A versatile CT Scanner, it offers applications in lung analysis, bone mineral density, musculoskeletal, neurology, urology and oncology. It's also available in 32- and 64-slice options.
Siemens is known for its innovation and pioneering spirit. It builds its scanners around contrast media dosage, advanced radiation minimization and other features for better clinical performance and the well-being of patients. You get sharper images with the highest standards for dose minimization. The SOMATOM line from Siemens is an industry leaders. The Siemens Biograph is an optimal choice for PET/CT Scanners. The SOMATOM Sensation 4 is highly affordable, offering low upfront costs and reasonable service and maintenance costs. It also delivers rotation times up to 500ms and 160 slices in only 20 seconds. It can reconstruct am impressive 1.5 slices per second, so it's an ideal entry-level scanner for soft tissue imaging. The workhorse scanner for Siemens is the SOMATON Sensation 16, providing a whole body 3D image scan of patient arteries in less than 20 seconds. You'll be able to provide lung cancer screenings, cardiovascular imaging, cardiac and brain imaging day-in and day-out.
Philips is known for its affordability, efficiency, and image quality. The Brilliance 16 certainly delivers all that, but if you need advance imaging applications for bone mineral density, brain, cardiac, lung analysis and more, you'll want to choose the Brilliance 40 of Brilliance 64. The Philips Gemini offers advanced molecular imaging with time0of-flight imaging capabilities. It's available in 16, 40 and 64 PET/CT. The OpenView gantries are staples of the line and offer a less confining patient environment.
GE Healthcare is last but not least. It's a leader in CT technology and is known for durability and ease of maintenance. The GE Lightspeed, BrightSpeed and Discovery are three popular model lines. While the GE CT scanners generally cost more than other models, they often have lower service and labor costs, as well as more affordable replacement parts. They're also easier to maintain because they are air-cooled. They are in high demand, but there's a more limited supply.
Talk To An Expert
If you're in the market for a used or refurbished CT Scanner, talk to the experts at Atlantis Worldwide. We've been helping healthcare operations with their medical imaging needs for more than 28 years and would love to assist you.
Some blogs you may have missed: