Mini-C-arms are very popular for use by hard surgeons, podiatrists and in many orthopedic studies. With the introduction of OrthoScan Mobile DI Mini C-arms, we're seeing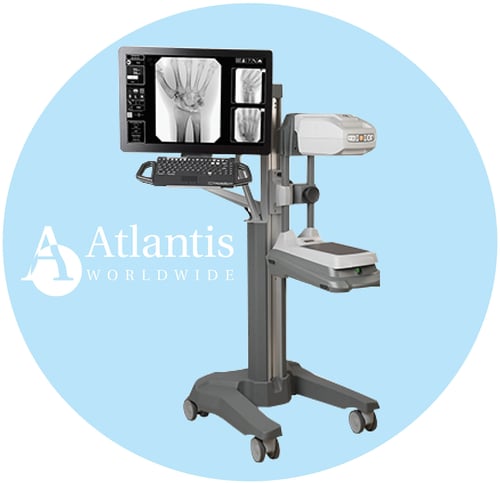 other facilities like small animal hospitals and clinics with multiple locations embracing this compact and versatile imaging device.
Let's take a closer look.
About OrthoScan Mobile DI Mini C-arms
The Mobile DI is the first mini C-arm designed specifically for clinical and off-site imaging needs. As of publication, it's also the only one. It delivers industry-leading digital X-ray and fluoroscopy, portability and ease of movement. It's designed to improve workflow and introduces additional procedures with established CPT codes for reimbursement.
You get exceptional diagnostic imagery with a 12" X 9.5" live image that delivers vivid clarity and fine details of anatomy. The 24" monitor lets you see more on-screen content with a resolution of 1920 X 1200 in bright detail for an immersive imaging experience. You get an advanced touchscreen interface called OrthoTouch and the Monitor Arm allows for easy adjustment of keyboard and monitor for viewing of anatomy while sitting or standing.
It's Ideal for Centers With Multiple Offices
For those who work out of multiple locations, the OrthoScan Mobile DI Mini C-arm is a great solution. The MDI is very small, so it's easy to transport between locations. You can detach the tube/detector assembly from the stand and move it safely between locations. There's even an optional travel case to provide peace of mind and ease of transport. Best of all, you can share the cost of the system between multiple offices.
OrthoScan Mobile DI Mini C-arm: Perfect for Small Animal Hospitals
The real beauty of the OrthoScan Mobile DI Mini C-arm is its flexibility on both its adjustable stand or on any stable surface when the tube/detector assembly is detached. When you're imaging small animals that need special positioning or might be squirming or uncooperative, this flexibility makes it so much easier.
Other Environments for the OrthoScan Mobile DI Mini C-arm
Extremity surgeons, plastic surgeons and sports team are also embracing the OrthoScan Mobile DI Mini C-arm. You can get on-demand imaging for hands, wrists, feet and ankles even in tight quarters like locker rooms or specialty offices.
Talk To An Expert
Still not sure if an OrthoScan Mobile DI Mini C-arm is right for you? The experts at Atlantis Worldwide can help you determine the best medical imaging solutions for your needs and your budget. Oftentimes you can find refurbished or used medical imaging equipment that deliver great warranties and service, and much lower pricing. Talk to Atlantis Worldwide today.