Back in the 80s, digital radiography was a brand new thing. Now, it's competing with conventional screen radiography in all radiographic applications.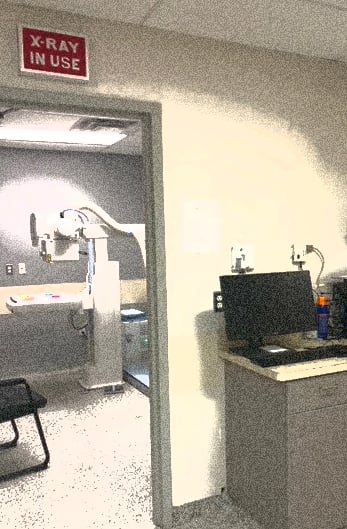 As a result, more and more rad rooms are being upgraded to digital. In fact, experts predict that tele-health and tele-radiology will be the norm within the next decade, with doctors meeting remotely with patients to review images, lab results and reports.
The reality is, radiologists have to jump on the digital bandwagon. Private practices and urgent care facilities now transfer documents, lab results, images and reports seamlessly. Even hospitals and healthcare networks use software as a service companies (SaaS) to manage health records electronically with EHR (electronic health records). Medical images from radiologists need to be digital so healthcare team members and hospitals can share information and collaborate.
Old To New
It used to be very expensive to upgrade a rad room from traditional to digital. It took a lot of players to get it done, including information technology departments, medical imaging departments and biomedical engineering departments. Now it's an easier, less expensive process. But, patient radiology reports and image archival devices will need to be integrated with a hospital's electronic health records to make sure everything is safe and secure.
There Is An Affordable Way To Upgrade Rad Rooms To Digital
The cost of a new digital rad room will cost from $95,000-$130,000—and then you have to add accessories and software packages. The good news is you don't have to create a state of the art rad room in order to take digital images. You can easily upgrade a rad room to digital with digital detectors with state-of-the-art flat panel detector technology at a much more affordable cost. And by not buying new equipment, you'll avoid the quick depreciation and any manufacturer recalls, which can hurt your margins.
To take the digital images, all you do is slide the newly installed flat panel detector under the area that needs to be imaged. It's that easy, and saves you money.
A flat panel detector has many advantages:
Battery is easily replaced

Offers largest image coverage 17″x17″ in less than 3-5 seconds.

Second Generation of continuous & accurate AED provides faster and more

efficient image acquisition

Stand-alone use

On-board storage

Web Viewer for a mobile phone

Digital images/records that can be shared with all healthcare team

members

No dark rooms and film libraries needed

Patients can view images online through healthcare portals

High SNR and Low Noise at lower dose

The wireless detector has long battery life

Durable because it's made with break-resistant material

It's 0.45,″ so it fits easily under patients
It doesn't make sense not to upgrade your rad room to digital, especially if you want to remain competitive. It's time to talk to an expert at Atlantis Worldwide and find out how affordable refurbished and used medical imaging equipment is. Plus, you'll get great warranties and protect your bottom line. We've been helping practices, clinics, urgent care centers, hospitals and other healthcare facilities with their medical imaging needs for more than 28 years. We'd love to help you.
Some blogs you may have missed: