The Global Market for breast imaging is growing exponentially? Why? For a number of reasons: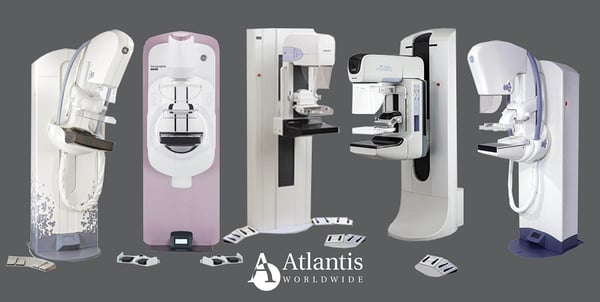 It's the second leading cause of death in women
There's a rising prevalence and incidence of breast cancer worldwide
There's a growing awareness of the benefits of early detection of breast diseases
There are technical innovations of advanced breast imaging equipment and software
There's an increase in the investment and funding in R&D for breast cancer treatment
The population of aging women worldwide is growing
Meticulous Research reports that the Global Breast Imaging Market will grow at a CAGR of 9.0% to reach $7.1 billion by 2027, from $3,873.2 million in 2020
Types of Mammography
Analog: Analog mammography captures X-ray beams on film cassettes, which creates an image on film. The image on film can be examined as-is, or it can be turned into a digital image with a CR Reader. The images can be less consistent than digital mammography, because of the actual imaging process. Radiation doses are 30% higher than digital mammography. However, analog systems are less expensive than digital systems. As digital mammography grows in popularity it may become difficult to find parts for repairs in the future.
Digital: Digital mammography captures X-ray beams on a digital detector, which creates a digital mammogram. It can be analyzed on specialized high-resolution monitors, and digital tools can be used in the analysis of the images. Digital mammography delivers more efficient workflow, since the images are available immediately on a computer. Because the images can be viewed instantly, patients can be repositioned for additional images so there are fewer retakes. In addition, the radiation doses are 30% lower than analog mammography. Digital systems are more expensive than analog, put parts for repair are readily available.
2D: A 2D mammogram consists of one 2D image from one angle. There can be tissue overlap which increases false positive scans. 2D images have lower radiation doses than 3D images.
3D: 3D mammography is tomosynthesis and it's growing in popularity. The 3D images are obtained by taking multiple mammograms from different angles, which is then reconstructed into a 3D image of the breast. This increases the visibility of small changes in the breast tissues which can enhance diagnostic capabilities.
The Global Breast Imaging Manufacturers
So who are the big players in the breast imaging market? How do you know which equipment is right for you? The experts at Atlantis Worldwide put together this list of companies operating in the global breast imaging market:
Canon Medical Systems Corp.: Canon develops, manufactures and sells diagnostic imaging systems, including CT, MRI, ultrasound, X-ray systems and healthcare informatics. Based in Tokyo, Japan, it has four business segments: Office, Imaging Systems, Medical System and Industry. Canon acquired Toshiba Medical Systems Corp. in 2016.
FujiFilm Holdings Corp.: Headquartered in Tokyo, Fuji provides breast imaging equipment and accessories through its Healthcare and Materials Solutions business segment. Fuji is popular, mainly due to the Amulet series: the Amulet One (a D2 system) and the Amulet S, F and Innovality (its 3D system). Since the 3D system was introduced in 2014, few are seen in the used/refurbished market yet.
GE Healthcare: GE is headquartered in Illinois, and provides breast imaging products under the company's Healthcare Systems business segment. GE offers the Senographe Essential and the Senographe Pristina, both of whom offer a 2D and 3D model. The Pristina is too new to be found on the used market. The Senographe DMR, DMR Plus, 700 and 800 are all analog models and can easily be found on the used market.
Hitachi Medical Corp.: Also headquartered in Tokyo, Hitachi offers breast imaging products through Electronic Systems & Equipment, one of eight business segments. It offers Computed Tomography CT. diagnostic ultrasound systems and X-ray systems for breast imaging.
Hologic: Hologic is headquartered in Massachusetts, with breast imaging delivered through its Breast Health business segment. is strong in the market with their main models being Selenia (2D Mammography), Dimension 2D and Dimension 3D (both with tomosynthesis). All have a biopsy option. You'll often find the Selenia on the used market, but the Dimension models are still too new.
Philips: Fuji offers imaging systems that improve outcomes, lowers the cost of care delivery and enhances patient experiences by enabling first-time-right diagnosis and treatment. On the used market, you'll find the Sectra MicroDose L30 and L50, and the MicroDose SI, which is newer.
Planmed: Headquartered in Helsinki, Finland, Planmed develops, manufactures and markets advance imaging equipment and accessories which provide better quality images and easier access of equipment for radiologists. Planmed has Planmed Clarity 3D for Digital Breast Tomosynthesis, Planmed Clarity S and Planmed Clarity 2D for Digital Mammography, and Planmed Sophie Classic S for Analog mammography.
Siemens: Headquartered in Erlangen, Germany, Siemens Healthineers AG provides therapeutic imaging, diagnostics, molecular medicine, digital health and enterprise. It provides breast imaging systems under their Imaging business segment. Siemens offers the Mammomat line, which includes the Mammomat Fusion 2D, Inspiration 2D and 3D and Mammomat Inspiration PRIME 2D and 3D. All have the capacity for the biopsy option. The Siemens Fusion is the entry level system, with Prime as the newest model, using less radiation doses that models before 2013. You'll find the Mammomat Nova 1000 and 3000 on the used market.
SonoCiné: SonoCiné is located in Nevada and develops and manufactures Automated Breast Ultrasound systems. It connects to a standard ultrasound machine and provides a consistent, repeatable scan of the entire breast, including the axilla. Its software package offers 3D viewing while maintaining high-resolution transverse views
Talk To An Expert

If you're looking for medical imaging equipment, it pays to consider a refurbished or used model. You'll often get the performance you need, the warranty you want and at a price that's kinder to your bottom line. Talk to an expert at Atlantis Worldwide to see if a refurbished or used mammography makes sense for you.
Here are some blogs you may have missed: