Without a doubt, 3D mammography is best for clarity in dense breast tissue. There are many options to choose from for this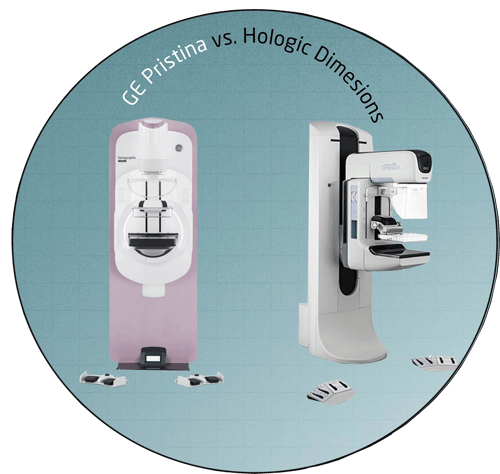 top-tier technology, including GE, Hologic, Siemens and Fuji. Whether you're looking for a new solution or one on the secondary market there are two that should be considered: the GE Pristina and the Dimensions 3D from Hologic. Let's take a closer look.
Comparing Image Quality
Actually, the image quality of the GE Pristina and Dimensions 3D by Hologic are comparable. They both have 24 X 29 cm imaging area. New models also have a standard detector resolution of 100 microns. However, the new Clarity HD Detector by Hologic has 70 microns. You'll be hard pressed to find one of these on the secondary market.
Comparing Service
Hologic by far has the largest market share and has been increasing its 3D install base since 2011. This has paid off in market penetration, but GE has also been growing their market in mammography. Hologic's engineering bandwidth and responsiveness for 3D mammo is unparalleled. GE is doing its best, but because of Hologic's size, it's hard to keep up.
Comparing Tomo-Guided Breast Biopsy
Both the GE Pristina and Dimensions 3D by Hologic offer tomosynthesis breast biopsy guidance capabilities. These biopsies are more comfortable for patients, especially if the patient is injured, disabled or limited in movement. The upright system with flexible positioning makes it easy to accommodate them.
The tomo guidance feature makes it easier for physicians to perform biopsies, as well. It increase their ability to position masses in the posterior of the breast by eliminating the table thickness found in a traditional prone biopsy system.
Self Compression
GE offers a feature package called "Self Compression" that puts the patient in control of the level of compression on their breast. This is designed to help the patient feel more comfortable and feel less pain during the procedure. However, Self Compression is getting mixed reviews from physicians, since many patient's pain tolerance might not meet the level of compressions required to get a quality image. This could actually make the results of the screen less reliable or even unusable.
Comparing Availability
Both systems are rarely found in the secondary market, whether used or refurbished because they are still very new and their install base isn't large. Occasionally you can find a Dimensions 3D unit but most likely you'll have to buy either unit new.
3D Dimensions or Pristina?
Because the Pristina is not easily available, the Dimensions 3D is the only choice in the secondary market, even though both systems are comparable in 3D tomo-guided biopsy and image quality. In additional to the great value delivered by Dimensions 3D, the more responsive service makes this a better choice.
Talk to an Expert
Are you in the market for mammography or other medical imaging equipment? It makes sense to explore the secondary market for cost savings that still deliver excellent warranties. Atlantis Worldwide has been helping hospitals, clinics, practices, urgent care centers and veterinary practices find ideal refurbished medical imaging systems for more than 28 years. Talk to one of their experts today.
Here are some blogs you may have missed: