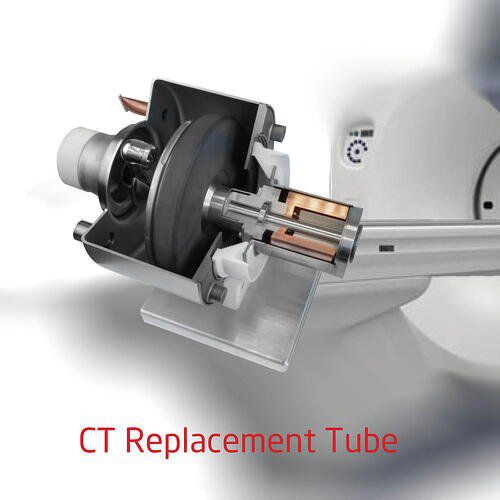 If you own a GE Revolution Evo or Optima 660 CT scanner, you're in luck. Now you can get CT replacement tubes with liquidNew CT Tubes metal bearing (LMB), thanks to Dunlee. Dunlee has developed the new DA200P40+LMB tube with Dunlee CoolGlide™ technology which was rigorously tested at both Dunlee's facility and on independent external gantries to confirm it would perform reliably in the two GE CT scanners.
Dunlee Head of Marketing & Business Development Alexander Eitel said, "Having an alternative helps our customers — and the patients and hospitals they serve — in offering affordable healthcare, and allows them to choose their partner of trust. We are pleased to have this CT replacement tube with liquid metal bearing now available with verified compatibility."
Future plans include validation for other GE Scanners besides the GE Revolution Evo or Optima 660 CT scanner. All tubes are manufactured in Illinois, with imported parts. The Liquid Metal Bearing with CoolGlide™ was designed and manufactured in Germany, based on knowledge gained from more than 30 years of LMB technology development and over 100,000 LMB units sold worldwide. It was developed by the research and development team that was the first in the world to bring LMB technology to the X-ray market in 1989.
Longstanding Dunlee customer Legendary Supply Chain sold the first LMB replacement tubes.
Robert Steele, Chief Growth Office of Legendary Supply Chain said, "We are extremely excited to have facilitated two separate tube installations on a game-changing innovation from Dunlee. Our Health Care Portal Division consulted with Baylor Scott & White, a Texas-based healthcare provider, and was able to help provide a significant savings by offering this tube. The in-house engineering team installed the tube with no assistance and indicated that the tube is whisper-quiet and works great!"
He added, "A second organization in Georgia (USA) also realized a substantial savings and was extremely excited to have a new, high quality OEM-alterative tube. After partnering with Dunlee for more than 20 years in various roles, I am beyond excited to have our team facilitate the first after-market liquid metal bearing tube, and hope to continue to see future Dunlee innovations that can help lower the cost of healthcare available for in-house and third-party service organizations."
Global distribution is planned. In addition, Dunlee is finalizing registration for the Middle East and Canada in 2021. There is also a product launch planning in China for 2022.
Dunlee has more than 100 years of experience in developing, producing and integrating innovative components for imaging systems.
Talk To An Expert
Questions about replacement parts for medical imaging equipment or refurbished and used equipment? Talk to an expert at Atlantis Worldwide. With more than 28 years of experience helping clients save money while getting the performance they need from medical imaging equipment, Atlantis Worldwide is ready to help you.